EIT Food - We Lead
entrepreneurship for female leaders
The WE Lead Food programme combines entrepreneurship and leadership tools for female leaders willing to create a real impact in the food sector.
The cutting-edge WE Lead Food programme draws together the years of experience from The University of Cambridge, Aarhus University, IMDEA Alimentación and European Food Information Council (EUFIC). Over a 10-week online course and individual mentoring, you will gain insights into entrepreneurship for sustainability and leadership for impact plus access to a network of like-minded women leaders.
If you are a woman in the food sector, do not miss out on this amazing opportunity – apply now!

https://apply.eitfood.eu/courses/course/91-we-lead
#eitfood #sustainability #entrepreneurship #womenleaders #opportunity #campdenbri
---
EIT Food autumn event: online webinar and face2face workshop
Nutrition and Health system skills for promotion and serving healthy diet for consumer
The EIT Food, together with Campden BRI Hungary, as the Hungarian EIT Food Hub together with the Hungarian Dietetic Association (MDOSZ), the Budapest Business School, the University of Debrecen, and the Semmelweis University organizes a workshop and training for young professionals for having a better understanding about the topics about the nutrition and health system within the large area of the agri-food system.
Discover the latest ideas about nutrition and health and related subjects are one of the areas that are in focus and essential to understanding consumers" demands. The topics are important for improving the young professionals who need the newest knowledge of what they can use in their practical life in their future workplace.
Another important goal of the event is to encourage and help the students develop individual or group project work. The topic of the group exercises is to raise awareness and briefly describe based on the webinars a challenge, an idea or a paroblem to solve in these topics. The solution, the worked-out topic, can be applied for research or dissertation, or it may be the theme of a business in the future. We provide the opportunity to consult with experts in the related areas. The pitches will be presented at the workshop.
The official language of the programs will be Hungarian.
The online webinar is available for the registered participants before the event from the middle of October
The date of the physical event: 18. November 2021
Location: Budapest Business School, Alkotmány Str. 9-11. (1st floor, room 104.) 1054. Budapest, Hungary
Registration: by filling out the form available at the following link
The invitation letter you can find here: INVITATION EIT Food Nutrition and Health 2021 EN
Autumn updates on the EIT Food website:
Nutrition and Health system skills for promotion and serving healthy diet for consumer | EIT Food
See you soon at our event!
---
EIT Food - The Call for Evaluators for the Innovation 2022 Kavas is launched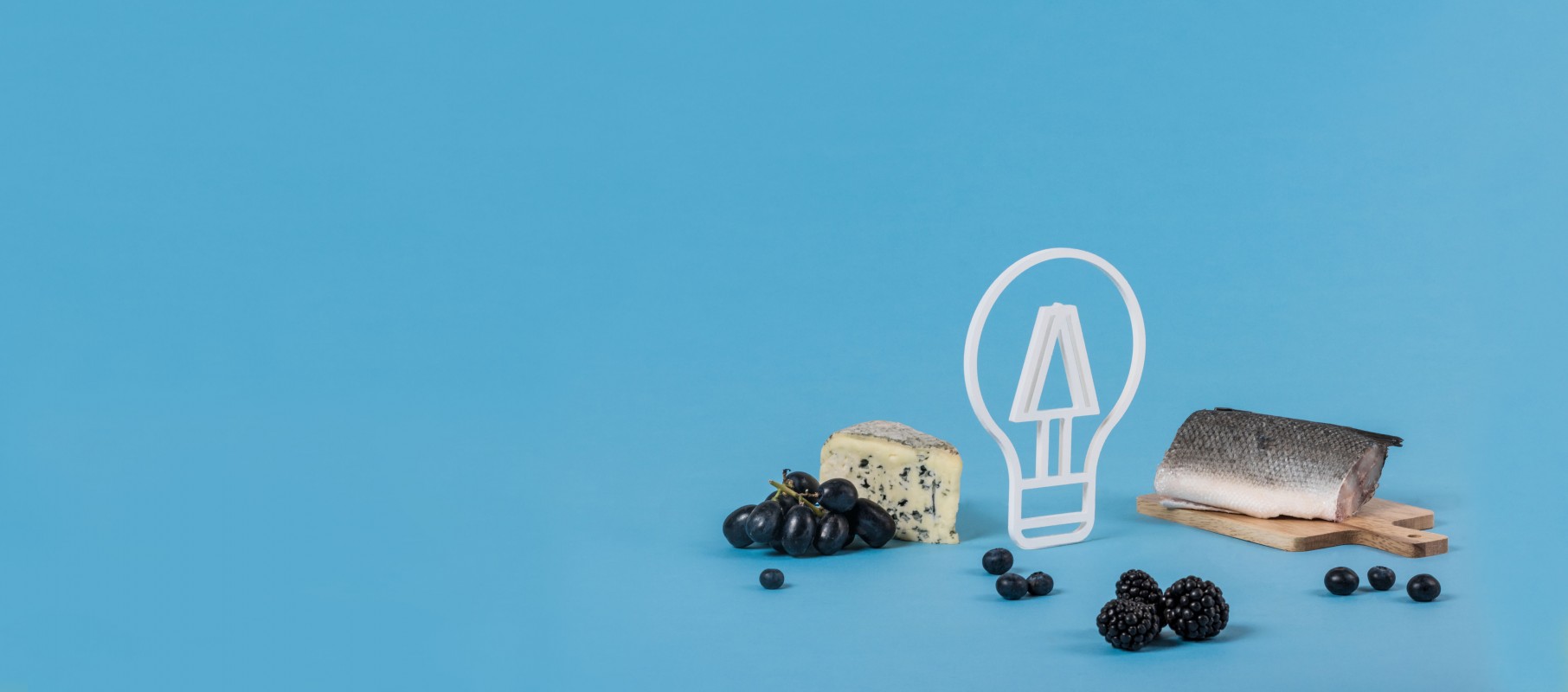 Do you have proven professional experience in the agri-food sector with expertise in Innovation Management, Commercialisation, and Technology Transfer? Have you acted as an Evaluator or Rapporteur for EU-funded programmes?
If you answered yes, then please apply to become an EIT Food Innovation Evaluator or Rapporteur!
EIT Food is a consortium of more than 200 partners from leading businesses, research centres and universities across more than 40 countries that has been selected by the European Institute of Innovation and Technology (EIT) as the Knowledge and Innovation Community (KIC) in the agrifood sector.
You can apply for 2022 Call for Evaluators by the 1st of October 2021.
Click here to apply now: https://apply.eitfood.eu/courses/course/97-call-expression-interest-eit-food-evaluators
https://www.eitfood.eu/procurement/call-for-eit-food-innovation-evaluators
---
EIT Food Awareness Day II
11. November 2021
Campden BRI Hungary, as the Hungarian EIT Food Hub, organize its 2nd Awareness Day, this year, in combination with its major annual event, the Campden BRI Hungary Open Day and the GLOPACK H2020 project's Final National Conference on the new packaging solutions, including home compostable, biodegradable packaging to attract more people. The 2nd Awareness Day thematic will be matched to the green packaging solutions. In the event, the activities, services, ongoing and completed projects of Campden BRI Hungary, including EIT Food projects and the main goals, visions, and programs of the EIT Food will be introduced, promoted and published.
The agenda and the program of the event you can find here: EIT Food Awareness Day II
See you soon at the event!
---
EIT Food – RIS Inspire Summer School Programme

from September 3 to October 1, 2021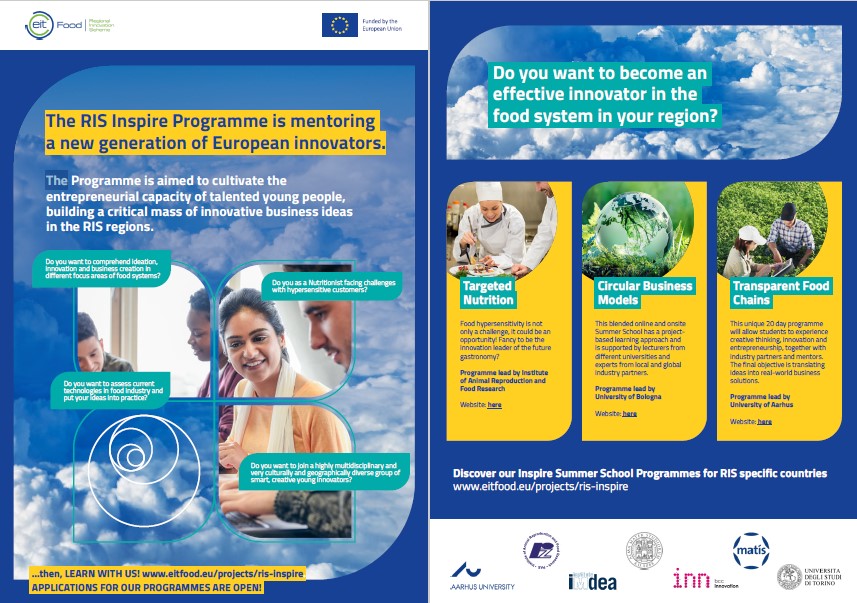 Institute of Animal Reproduction and Food Research PAS (Poland) together with partners (Aarhur University, Denmark; IMDEA FOOD, Spain; BCC Innovation, Spain; Bologna University, Italy; Matis, Iceland), in cooperation with entrepreneurship experts from Cambridge University and under the supervision of EIT Food is organizing RIS Summer School in Targeted Nutrition, which will be held online from September 3 to October 1, 2021.
Our Summer School aims to ignite the entrepreneurial talents of young academics and build the trust of consumers with allergies/hypersensitivity to catering services. The School will mentor a new generation of European food innovators through an entrepreneurial approach linked to food allergies. Students will be provided with state-of-the-art knowledge and skills around the management of food safety hazards and the development of targeted nutrition solutions. The course is open to Bachelor, MSc, and PhD students as well as graduates and professionals interested in nutrition and food. The course would also suit aspiring entrepreneurs or professionals wishing to move into this sector.
Participation in the Summer School is completely free, in addition, the ideas of the three best teams will be awarded (1st place = 2,000 euros). Participants will receive 4 ECTS credits and certificates.
More information can be found at www.pan.olsztyn.pl; or http://pan.olsztyn.pl/eitfood/eit-food-ris-summer-school-in-targeted-nutrition.
The link to the direct app is: https://bit.ly/3wPJea8
We invite you to apply on August 31.
LinkedIn: https://www.linkedin.com/posts/campden-bri-hungary_eit-food-ris-inspire-summer-school-programme-activity-6836210092992413696-Glie
Description of the programs:
---
EIT Food NPD Skills Workshop 13-17 September 2021
Skills for new product development in the food industry
In today's food markets, New Product Development (NPD) projects are critical to the success and development of organizations. Therefore, the skills for new product development in the food industry workshop is a unique opportunity to get up-to-date knowledge on trends in the food sector, meet professionals, get to know real case studies from industry companies and become an expert in developing new products in the food market!
Are you dreaming of becoming a game-changer in Food Industry in your local region?
The main purpose of this programme is to invite career progressors from the agri-food world, turn their innovative ideas into action, become entrepreneurs, and lead sustainability challenges in their geographical areas.
Discover our further Professional Education Programmes for RIS specific countries!
We are offering 4 different programmes:
WE Lead for Women leaders
NPD for New Product Development in the Food Industry
SUDAPS for Dairy Industry players
GROW for Farmers
Application for the NDP Skills Workshop is open now!
More info please find on the website:https://timo.wz.uw.edu.pl/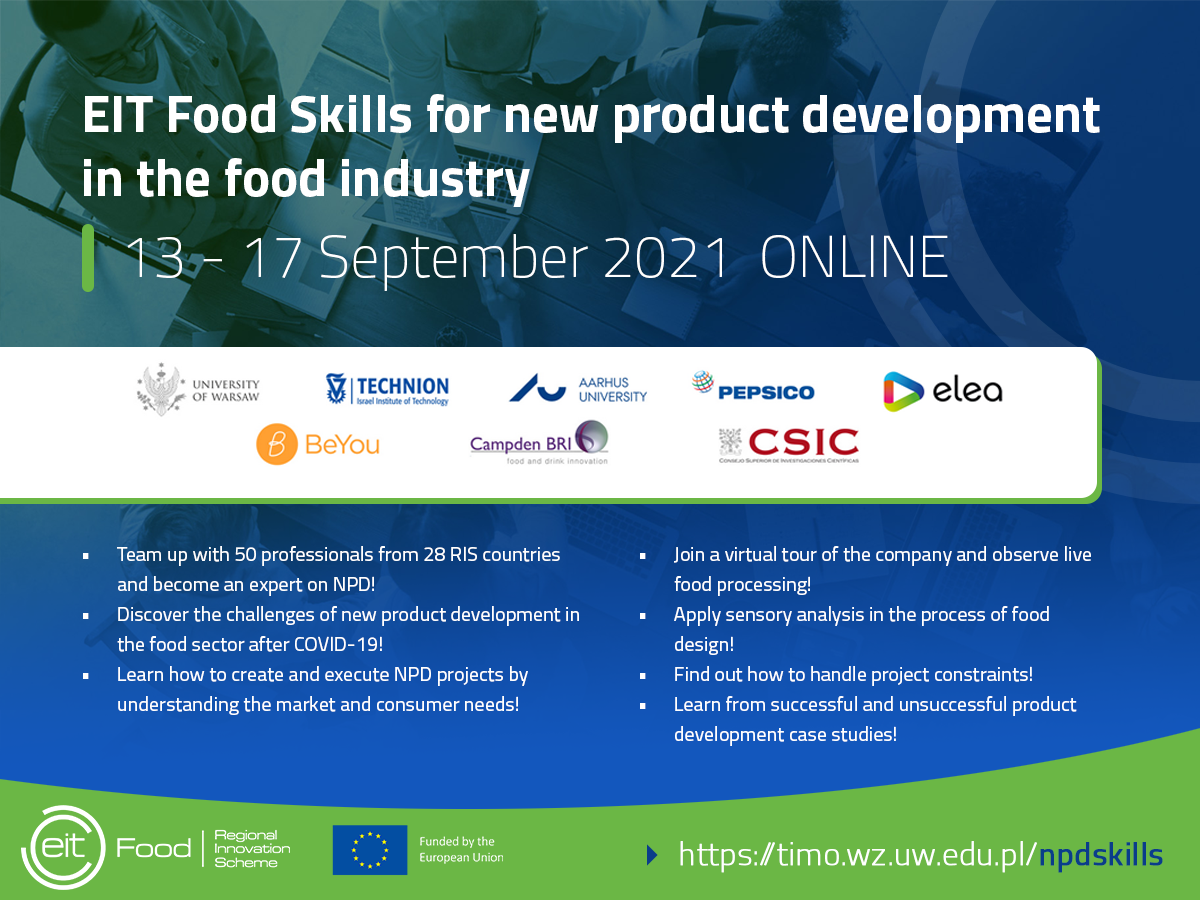 ---
Call for EIT Food Ris Policy Council members 2021-2022
EIT Food is looking for g for experts that would like to participate in the EIT Food RIS Policy Council from Bulgaria, Croatia, Czech Republic, Estonia, Greece, Hungary, Italy, Latvia, Lithuania, Poland, Portugal, Romania, Serbia, Slovakia, Slovenia, Spain and Turkey.
RIS Policy Council is a policy advisory body established in 2019 to support dialogue and other interactions in RIS countries, contribute towards the further elaboration of EIT Food instruments and projects, as well as promote linkages with government authorities and other stakeholders.
How to apply
Deadline for application Interested and eligible individuals are invited to submit their application by 26 August 2021, 23:59 CEST, referring in the e-mail title to Call for EIT Food RIS Policy Council members 2021- 2022.
You can download the call here: RIS Policy Council Call for members
The application form is available here: 2021 RIS Policy Council_Application_Form
More info please find on the website:https://www.eitfood.eu/news/post/call-for-eit-food-ris-policy-council-members-2021-2022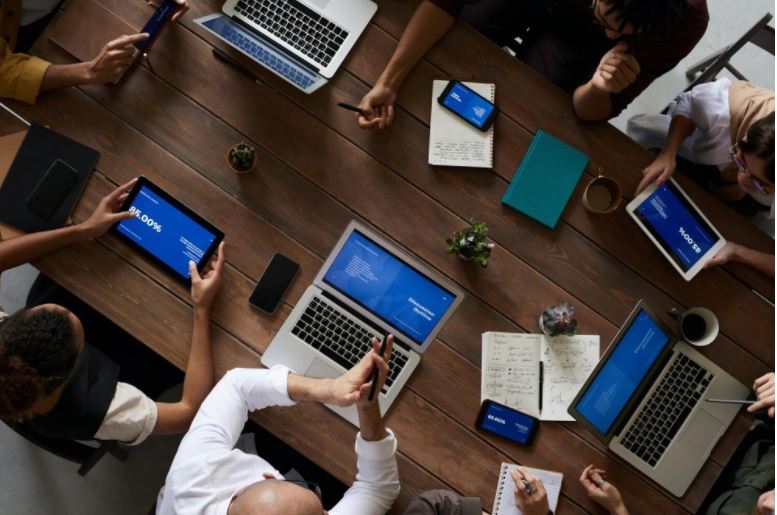 ---
SMARTCHAIN final event: Open European Multi-stakeholder workshop July 6th 2021
The SMARTCHAIN Final Conference will be organised on the 6th of July, 2021.
The registration is open!
You can find the registration link here: https://www.eventbrite.de/e/open-european-multi-stakeholder-workshop-registration-159025221719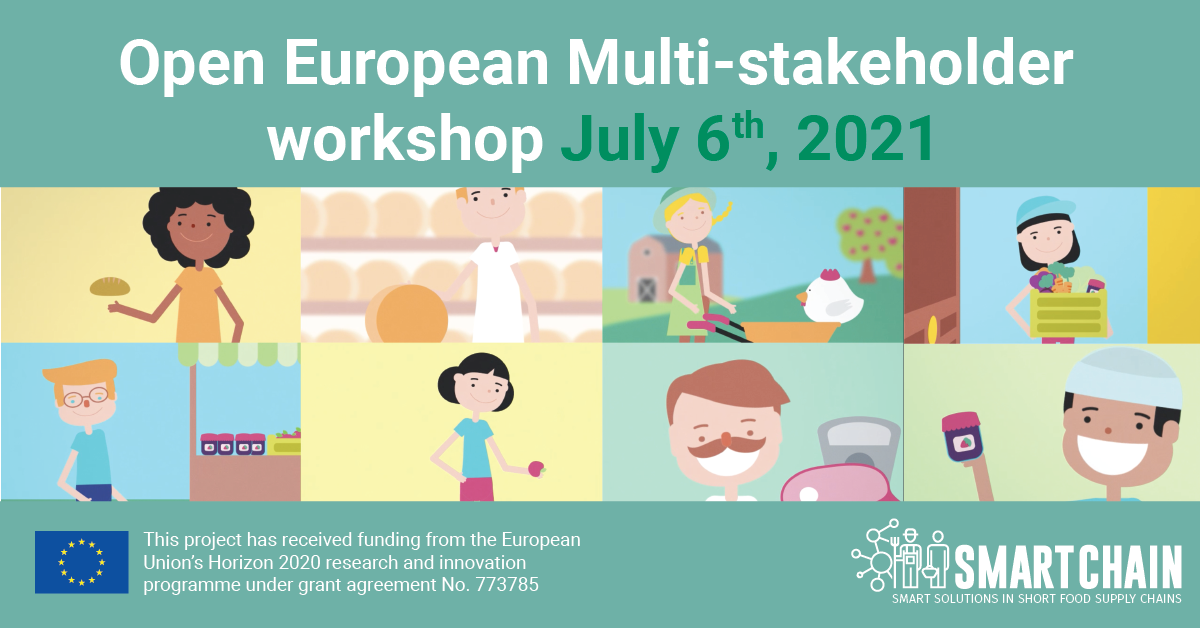 ---
EIT Food Research data management in agri-food R&D projects.
Application deadline 18 June 2021

Take part in the EIT Food online workshop Research data management in agri-food R&D projects and learn about professional Data Management!
IF YOU ANSWERED YES TO ANY OF THESE QUESTIONS THEN THIS WORKSHOP IS FOR YOU. TOPICS COVERED DURING THE WORKSHOP:
What is data management and why do we do it?
How does EIT Food support innovation and cross-sector agri-food collaboration?
Data Management – the best international practices
Data Management Plan (DMP) – how to design and update it.
Registration:https://www.visnea.org/eit-registration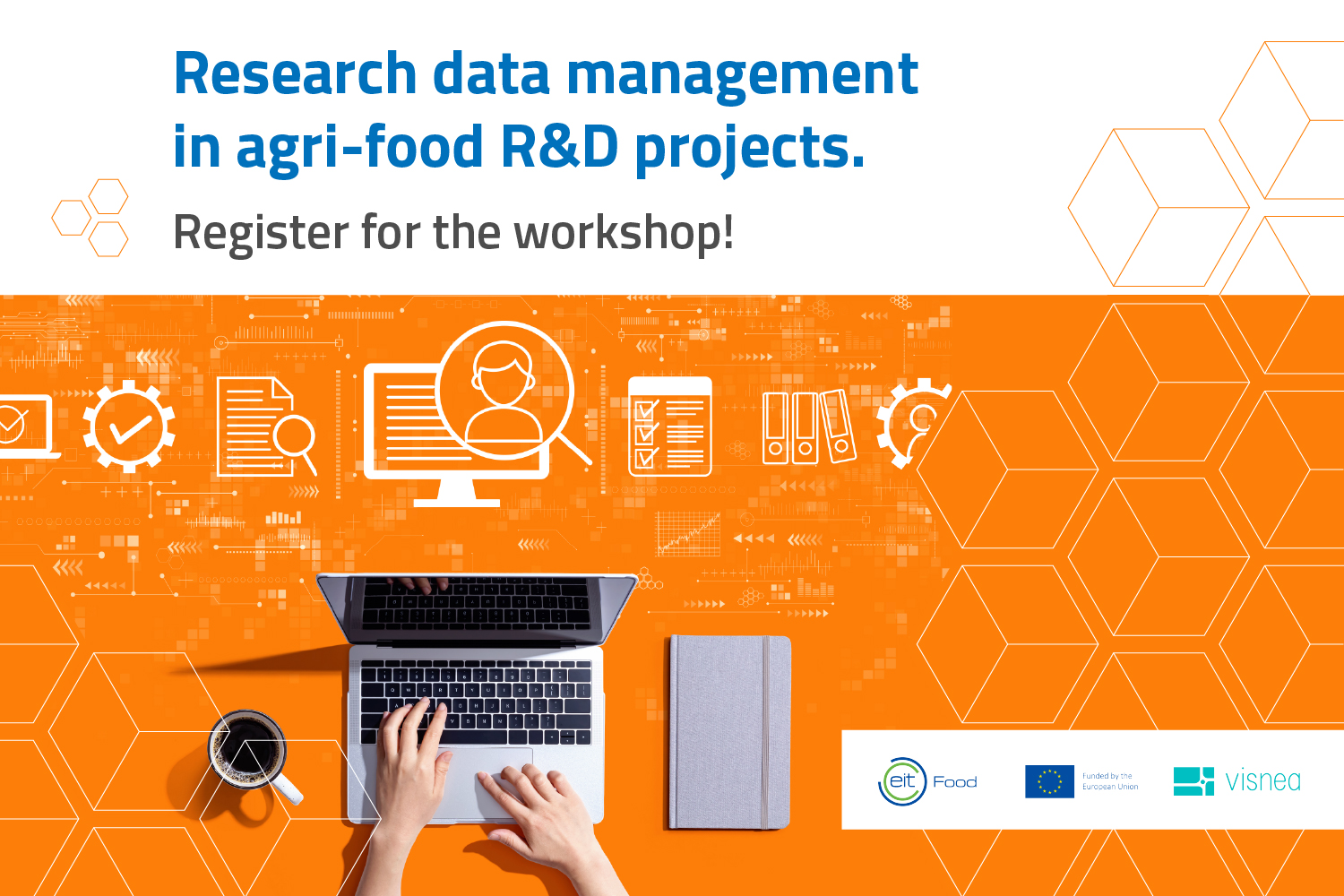 You can find the detailed description of the workshop here: workshop
Further info on the web page: https://www.visnea.org/eit-workshop
---
EIT Food Test Farms - application deadline 30th of April 2021

Want to validate your agritech in the field? Apply for Test Farms ??!
#TestFarms was created for those who are developing an innovative solution that can make a change and improve agricultural practices. Our program will help to validate your agritech technology or product in real conditions and increase your chances for commercial success!
How does the process look like?
Apply before 30th of April,
Get matched with the right farmer with suitable testing conditions.
Test your solution on the field
Showcase your innovation during Demo Day!
Teams coming from Eastern and Southern European countries have a chance to receieve financial support of 3000 EUR.
Check the dates and terms on our website https://www.eitfood.eu/projects/test-farms
You can find the detailed description of the program in English here:Test_Farms_-_programme_leaflet_(EN).pdf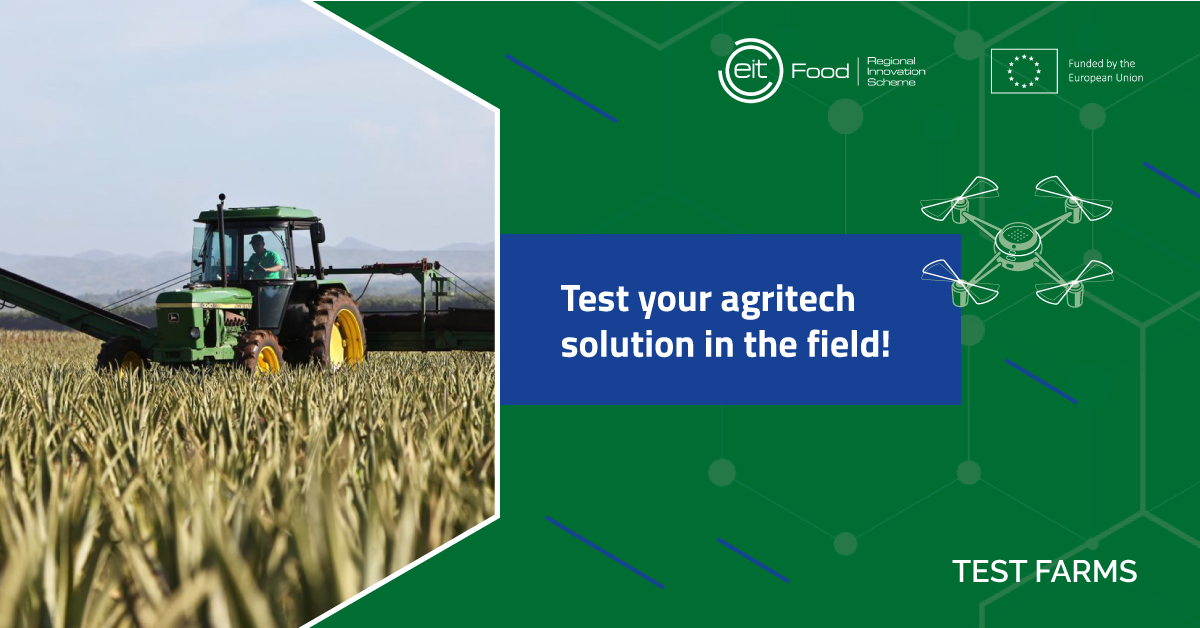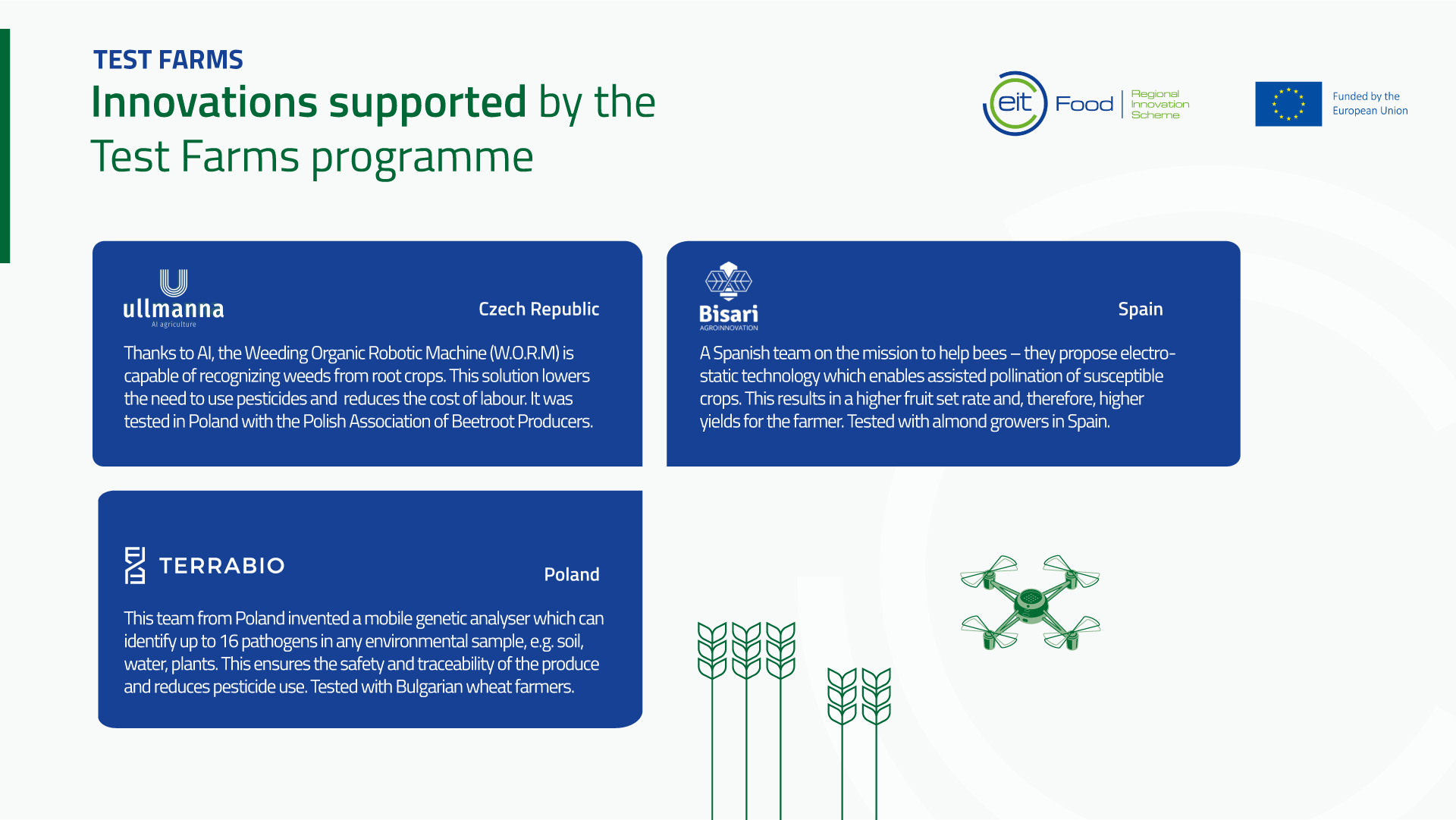 ---
EIT Food TeamUp - extended application deadline 30th of April 2021

Are you looking for a tech or business co-founder to help you build an impactful agrifood startup? 🌱 Apply for TeamUp, find the right co-founder 🤝and receive training and funding from EIT Food.
What is TeamUp?
TeamUp is an EIT Food programme that matches leading technologists with top business professionals and supports them in building impactful agrifood ventures.
For whom?
For technologists and researchers who have an impactful agrifood solution but struggle to commercialise it. For business and startup professionals passionate about innovation in agrifood.
Why join the programme?
Find the right business or tech co-founder
Build and grow an impactful agrifood startup together
Get expert training and access to #EITFood network
Receive a stipend for 3 month and a chance to get further FUNDING from EIT Food
Find out more about the programme and apply now: TeamUp_leaflet_EIT_Food_2021.pdf
https://www.eitfood.eu/projects/teamup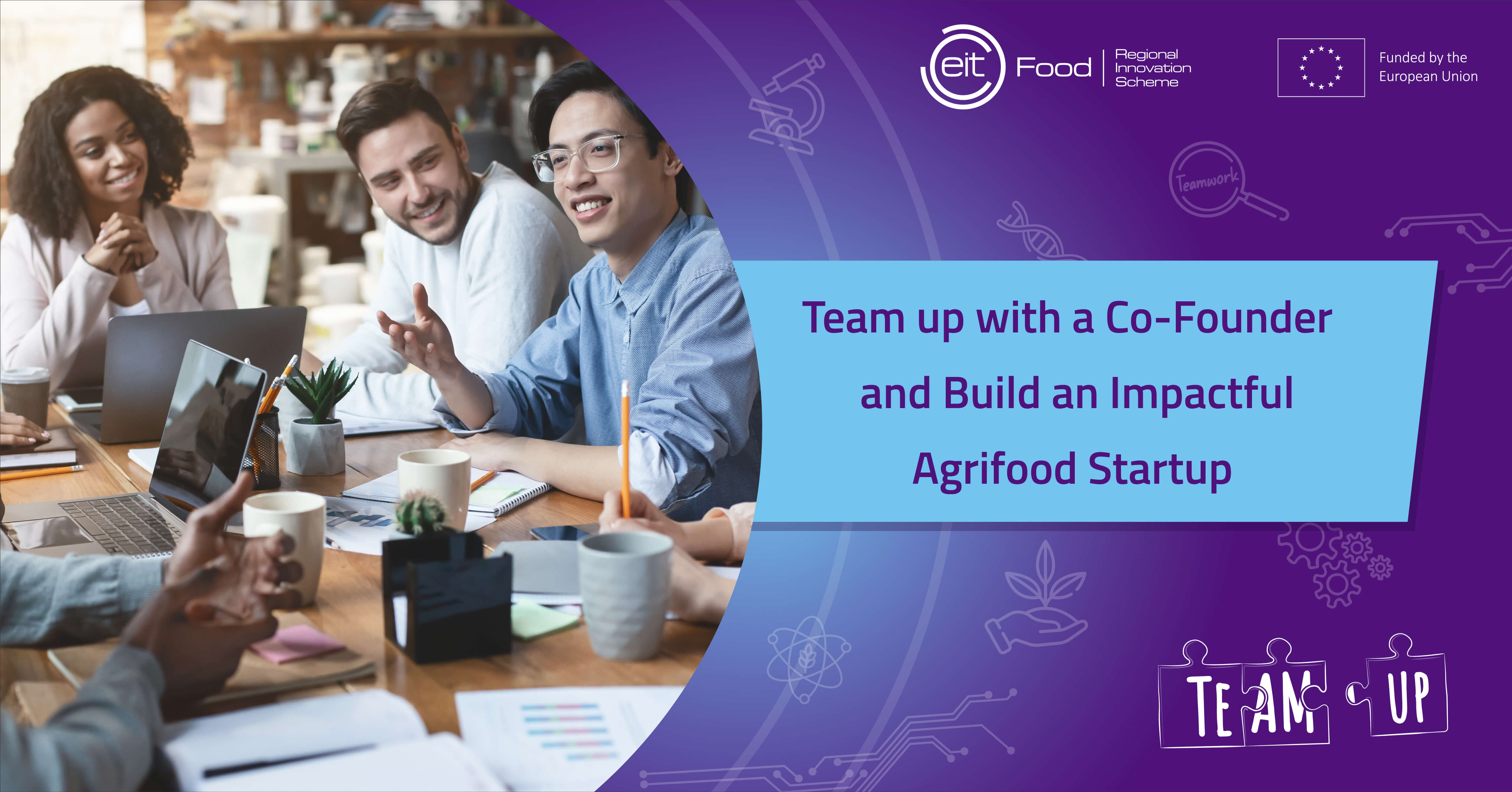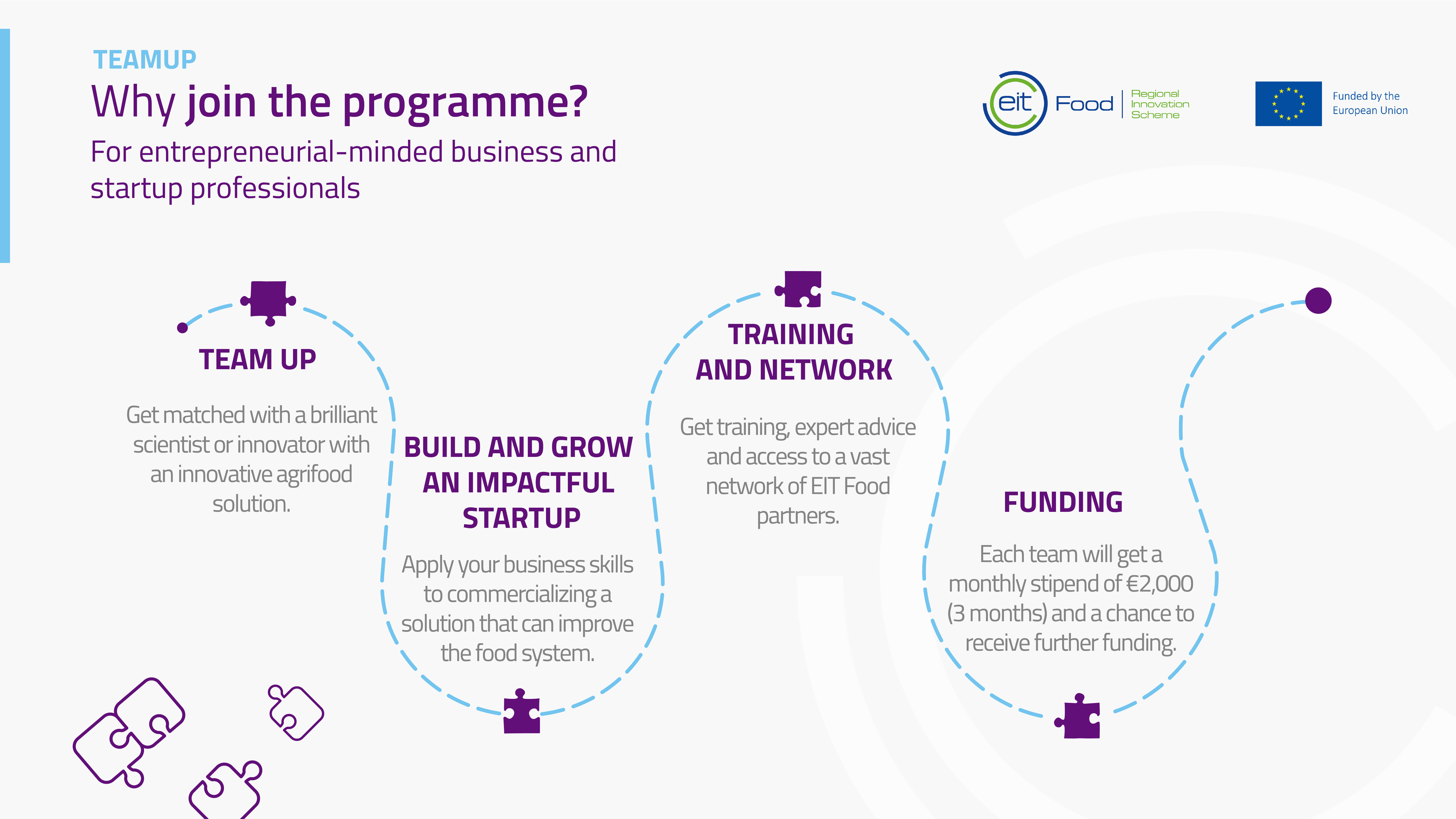 ---
EIT Food Business Creation

applications for all three programmes are accepted through one form on the website: https://businesscreation.eitfood.eu/
SEEDBED
For entrepreneurial academics, aspiring entrepreneurs and newly formed startups looking to validate the market opportunity.
A 6-month programme that aims to transform innovative ideas and research breakthroughs into market-validated business propositions.
https://www.eitfood.eu/projects/seedbed
FOOD ACCELERATOR NETWORK (FAN)
For registered startups with ready-to-pilot solutions.
The programme connects impactful agrifood startups with industry-leading corporate and research partners to pilot their technology and drive the ultimate goal: a successful market adoption.
RISINGFOODSTARS
For ambitious early scaleups, on the verge of international growth.
A network organisation for successful, game-changing early agrifood scaleups, enabling its members to participate as Partners in all EIT Food activities.
https://www.eitfood.eu/projects/risingfoodstars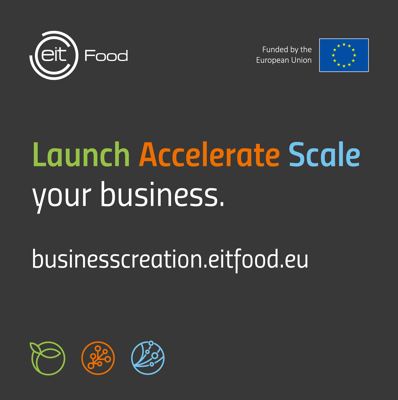 ---
EIT Jumpstarter is back in 2021 - application deadline 30th of April 2021

Do you have an innovative business idea and want to jumpstart your business? The award-winning EIT Jumpstarter is back bringing together Europe's six largest thematic innovation networks. If you want to set up tomorrow's science-based business, apply today!
The new edition of EIT Jumpstarter, one of the most well-known European pre-accelerator programmes has just been announced. Candidates are able to submit their innovative ideas in six thematic categories: food and agriculture, healthcare, raw materials, energy, manufacturing and urban mobility. Applications can be sent until 16 April.
EIT Jumpstarter is one of the widest cross-industrial programmes designed for early-stage innovators who want to gain traction and jumpstart their business. The fourth edition will be organised in collaboration with six knowledge and innovation communities: EIT Health, EIT Raw Materials, EIT Food, EIT InnoEnergy, EIT Manufacturing and EIT Urban Mobility, supported by the European Institute of Innovation and Technology (EIT). The programme is especially focused on Central-Eastern and Southern European talents who want to validate their business concept, develop business plan and pitch their ideas to the potential future investors. In the previous editions, over two hundred teams from 13 countries were already trained, mentored and supported in expanding impactful ideas into powerful business models.
Is it for me?
If you are an innovator in the following domains: agri-food, healthcare, raw materials, energy, manufacturing or urban mobility with an innovative business idea, then this programme is perfect for you. EIT Jumpstarter is open to students, PhDs, researchers or entrepreneurs. Participants will learn how to get started on building a business in a unique cross-industry environment: how to create a team, business processes, and organizational design. The primary focus is put on quantitative business model building. Through the EIT Jumpstarter programme, trainers and coaches will guide you to find the best fitting business model for your idea, and help you validate it. At the end of the program, graduates will prepare their pitch deck, business model canvas, competitive landscape, go-to-market strategy and a roadmap.
What's in it for me?
Through the programme you will receive support from the best-in-class trainers and mentors and have a chance to win up to €10 000.
Applications are open by 30th of April 2021.
For more details and application, click on the link below: https://apply.eitjumpstarter.eu/
Testimonial of the previous participant – for your comms purposes, you may pick the most appropriate testimonial
"We are the winners of the Health category of EIT Jumpstarter and we couldn't be happier about it. The quality of the program is amazing, the mentors were great, and I think it was a tremendous help to our project."
Luis Valente, CEO i-LOF, first prize winner in the Health category
"EIT Jumpstarter is a great programme with amazing mentors. For us it's a unique opportunity, because there are not many funding mechanisms which work with raw material. This prize will be our first investment in our small facility"
Ivar Krusenber, CEO of UpCatalyst, first prize winner in the Raw Materials category
"We can name lots of benefits from the EIT Jumpstarter – we have reached several achievements, made so many contacts, all the mentoring that we had in all these months is measureless, and of course the prize that will help us move forward."
Miguel Cerqueira, CTO of 2BNanofood, first prize winner in the Food category
You can find the detailed description of the program in English here: jumpstarter_leaflet_Food.pdf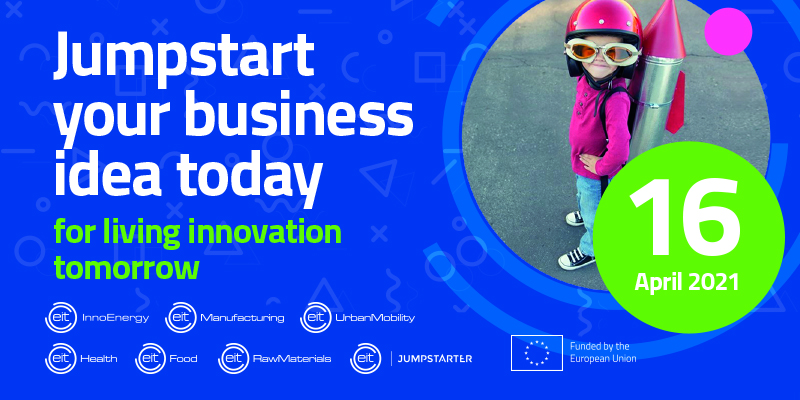 ---
EIT Food RIS Fellowships and RIS Talents - application extended deadline 19th April 2021




Despite all complications, recruitment for EIT Food #RISFellowships2021 has just started!




EIT Food gives you the opportunity to benefit from unique paid internships among the leading European agri-food players involved in innovation and research and development projects.




Don´t miss the call!!


We´re looking for:

MSc or Ph.D. student or post-doc interested in the agri-food sector
Young professionals willing to develop his/her competences and self-motivated
Adventurers ready to work in an international environment and speaks English very well
We offer:
Online, on-site or hybrid paid internships
3-6 months mentorship
Great network
Application is open until April 19
Take a look at the terms and conditions, COVID-19 has brought some changes in the formats. Further info on the website: http://timo.wz.uw.edu.pl/risfellowships/
Watch the videos:
You can find the detailed description of the program in English here: News_2021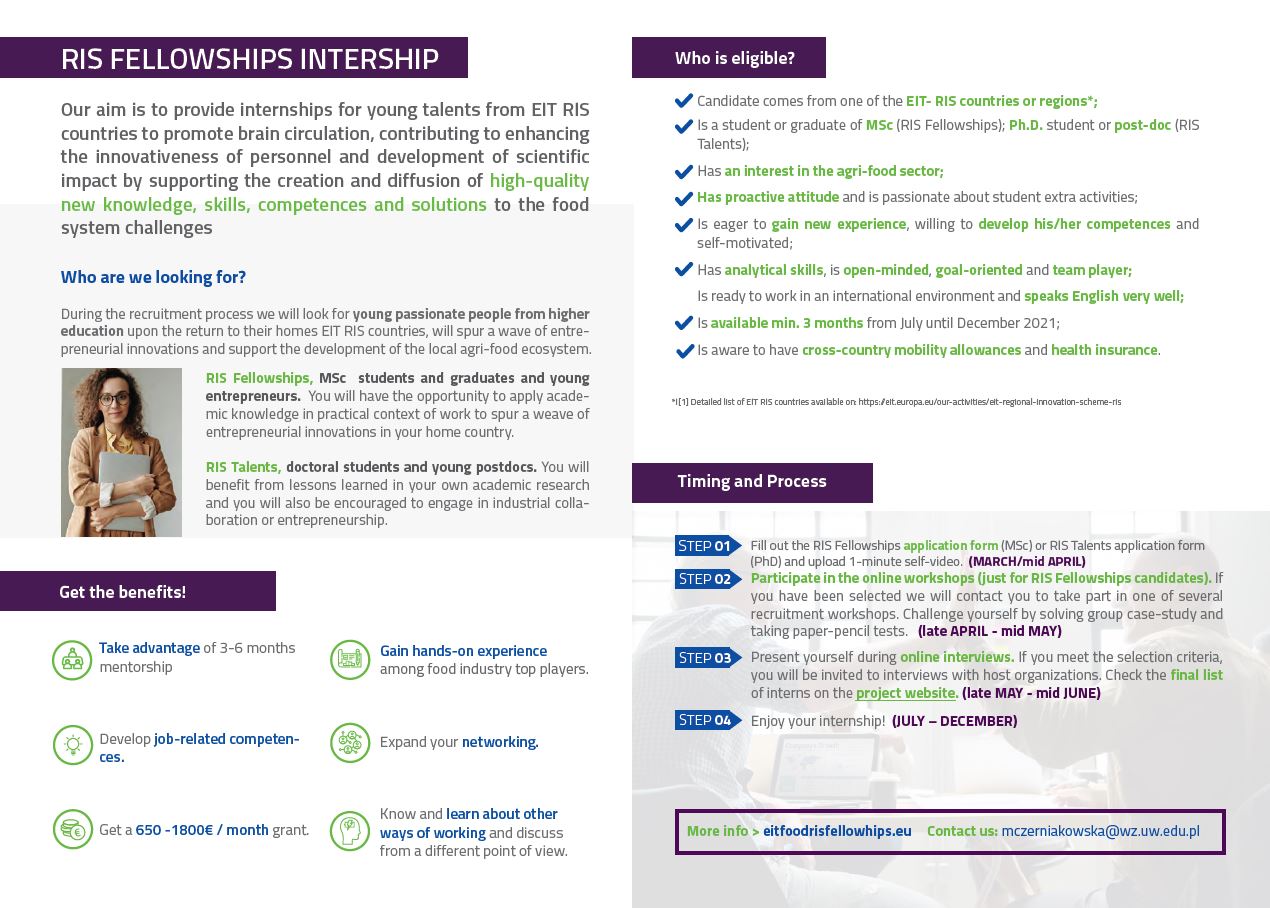 ---
EIT Food Government Executive Academy - application extended deadline 24th of April 2021

EIT Food Government Executive Academy is an executive-level training program for public sector representatives from Southern and Eastern European countries, deepening their knowledge of agri-food innovations and sectoral regulation, and helping address societal challenges across Europe through mission-based policies and Smart Specialization Strategies.
EIT Food GEA will be held online on 15, 16 and 22 June 2021 with subsequent mentored teamwork and final session in October-November 2021.The application deadline is 24th of April 2021.
Further info on the web page: http://timo.wz.uw.edu.pl/gea/
You can find the detailed description of the program in English here
EITFGEA_one-pager_2021, EITFGEA Terms and Conditions 2021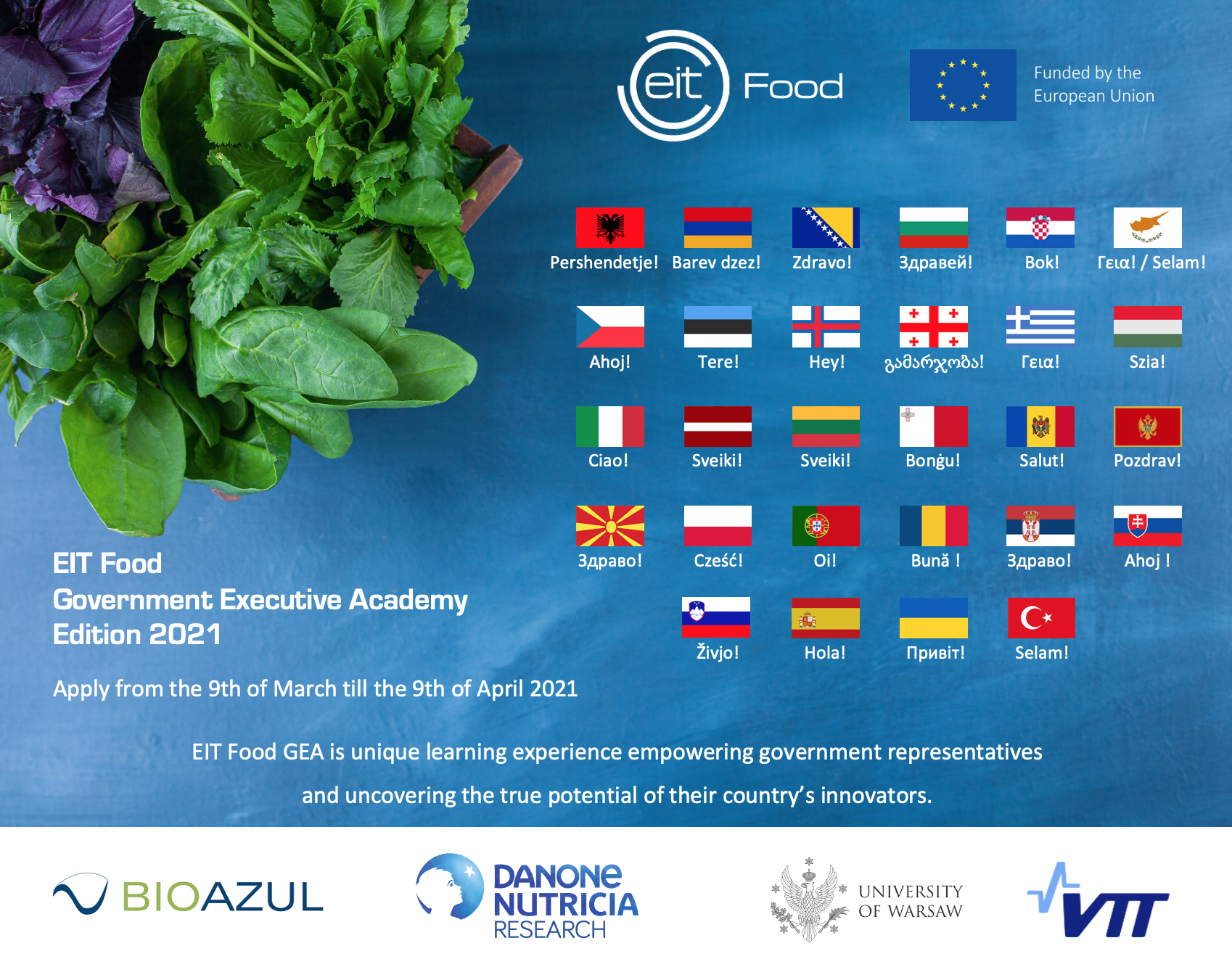 ---
S3FOOD voucher application deadline - second round
The deadline for the voucher application opportunities (Exploration voucher, Validation voucher, Application voucher) in the framework of the S3FOOD project is announced, it is March 10, 2021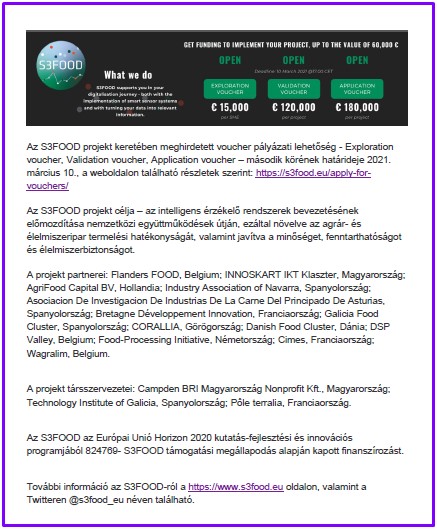 ---
Lack of digital transformation skills is critical in Food Industry
"Digital transformation is becoming an issue of primary importance in the European food industry,"says András Sebők, general manager at Campden BRI in Hungary. Digital transformation is needed due to consumer and societal pressure. But the problem is the lack of skilled people to make it happen. "Education is what's needed", says Sebők in an interview on EIT Digital.
---

CONNSENSYS VIRTUAL STUDY VISIT - HUNGARY
Campden BRI Hungary and Innoskart Digital Cluster will be happy to receive virtually all those who are interested in boosting the digital transformation of the agri-food industry on 7th October 2020 from 8:50!
Hosting partners have been working on building a European Network of Living Labs and will be happy to show you the present status of the work implemented and those actors who have important role in it. The three potential Hungarian Living Labs may constitute later a network in the region and on European level. During the virtual study visit, they will demonstrate their activity and show some examples how they can support the digital innovation via knowledge and technology transfer in the food processing industry.
Connsensys partners, technology provider SMEs, food processing companies, universities, policymakers will be invited to participate to educate the stakeholder community. The study visit will be organised on Zoom platform and the language of the program will be English.
Full agenda and registration:https://innoskart.digital/esemenyek/virtual-study-visit/
---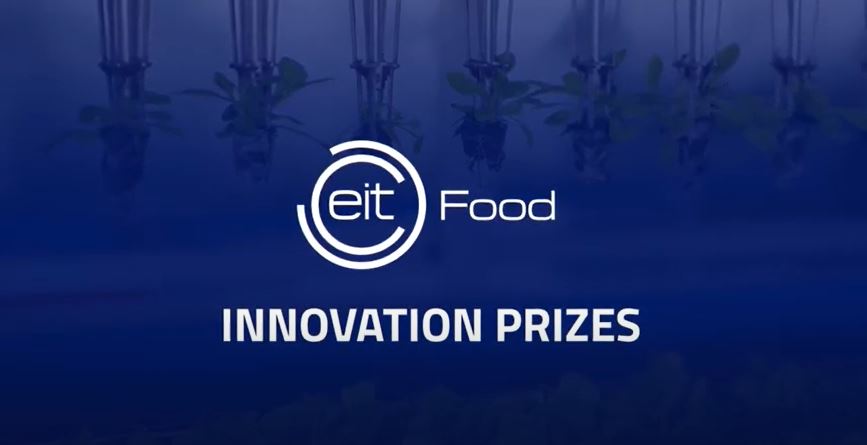 EIT Food Innovation Prizes
15. 07. 2020
The country final of Hungary
Meet top agri-food innovators from Southern and Eastern Europe
EIT Food Innovation Prizes competition 2020 is one of the largest agri-food startup competition in Southern and Eastern Europe. The prizes are awarded to entrepreneurs and early-stage startups developing innovative products and services with the potential to transform our food systems. The country finals were running online in 17 countries in Southern and Eastern Europe, the prizes were awarded to the most innovative and ambitious agri-food startups.
In the Hungarian final, we met 8 ambitious early-stage agri-food startups and the jury members chose the three most innovative and promising start-ups and awarded them with €1,000, €3,000, and €5,000. We had the chance to watch the whole country final online, meanwhile, the viewers also had a chance to vote for their favorite start-up and helped one team to win the Audience Prize of €2,000!
The Hungarian start-ups in 2020 qualified for the Demo Day:
Inventori Solutions /Ferencvári Márk, Brezovszki Máté/
SMAPP LAB /Posta Donát, Zsigo Miklós/
TransFoodMission /Dalmadi Júlia, Murray Brennan Elphick/
Green Drops Farm Ltd /Rácz Gréta Ildikó/
SpaceCrop /Gasco Mary Grace/
MAGOSERO /Turcsán Tamás/
Bedrock.farm /Balázs Bence, Dénes Dániel/
Seedling_hu /Bátori Anikó, Tóth Viktor/
Results of the Hungarian EIT Food Innovation Prizes final:

1st – SMAPP LAB
2nd – Green Drops Farm Ltd.
3rd – SpaceCrop
Audience Prize: SMAPP LAB
The first prize winners from each local final will participate in the EIT Food grand final in the autumn and will have the opportunity to compete for the final prize, the 250 000 Euro.
You can watch the whole Hungarian country final video on YouTube: https://www.youtube.com/watch?v=oE9Lpq5VPKQ&feature=youtu.be
Congratulation to all participants and the winner teams!
---

GLOPACK Hungarian webinar on the development of food packaging with low enviromental impact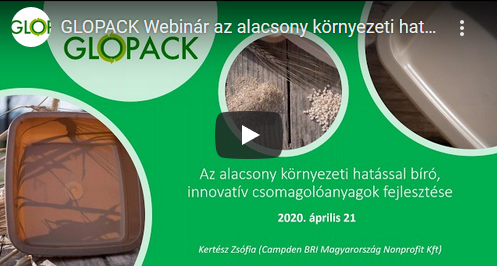 The aim of the webinar was to present the current achievements of the project on the development of:
biodegredable and home compostable food packaging
active packaging
intelligent packaging
---

Public consultation of the NoAW Best Practice Guideline for farms and businesses on agricultural waste management
The No-Agricultural Waste (NoAW, https://noaw2020.eu/) Horizon 2020 project aims at finding new solutions for up-cycling unavoidable and continuously generated by-products from agriculture.
The best practice guideline was prepared by the No-Agricultural Waste (NoAW) for farms and businesses on agricultural waste management. It aims to show best practices and new solutions with special focus on manure, straw and winery wastes to serve and facilitate implementation of circular economy and environmental investments reducing environmental impacts in the agriculture, by valorising agricultural by-products that would otherwise mainly landfilled or burned.
The main purpose of this consultation is to gather insights and contributions from the wide range of stakeholders in the context of the NoAW Best-practice guideline.
In order to make sure that our guideline is on point we gladly invite all interested parties to read and comment the current version of the guideline
We welcome your views and supporting comments in response to this consultation. The consultation period runs from today until 22nd of March.
Please send your feedback
• by completing the survey https://forms.gle/kRkfkpdX97q5J4np9
• or by contact our colleagues:
Mr. Csaba Baár (Campden BRI Hungary) E-mail: c.baar@campdenkht.com
Ms. Tünde Kuti (Campden BRI Hungary) E-mail: t.kuti@campdenkht.com
---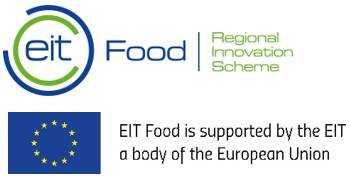 EIT Food RIS Fellowships 2020
Develop your talent with top agri-food players during a paid internship in EU! Apply now to the EIT Food RIS Fellowships project!
More information are available on the website:» https://www.eitfood.eu/regional-innovation-scheme/projects/eit-food-ris-fellowships-2020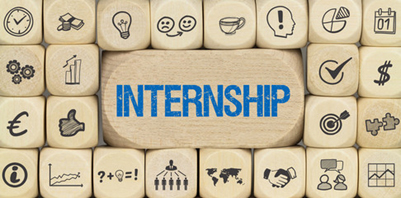 ---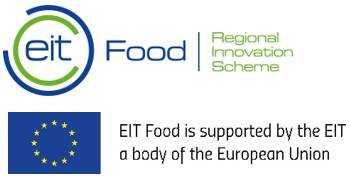 EIT Food – Women in the agrofood business
EIT Food is looking for 3 organisations based in the South of Europe, namely from Greece, Italy, Portugal, Spain or Turkey and 2 organisations based in the East of Europe, namely from Croatia, Czech Republic, Estonia, Hungary, Latvia, Lithuania, Poland, Romania, Slovakia or Slovenia to organise activities within a project aiming at boosting the entrepreneurial skills of women in the agrifood sector.
The main objective of this project is to find innovative solutions that tackle the problems faced by the food system created by women entrepreneurs while supporting them to grow these entrepreneurial ideas. On balance, the Project will also help these women to access other programmes offered by EIT Food.
More information are available on the website:» https://www.eitfood.eu/news/post/call-for-proposals-to-carry-out-activities-to-build-entrepreneurial-capacities-for-women-in-the-agrifood-business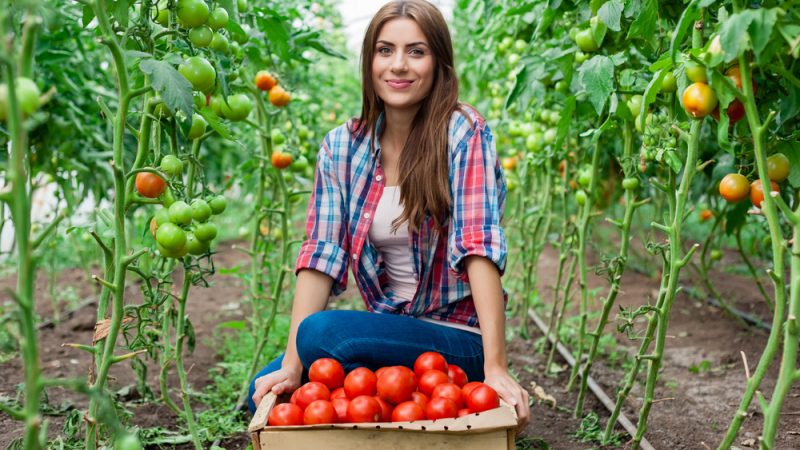 ---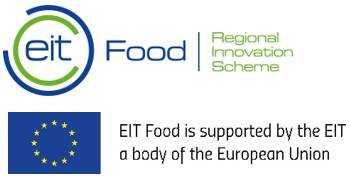 EIT Food - Government Executive Academy
EIT Food Government Executive Academy brings together public sector representatives, including regional and central government officials, from 28 RIS countries, researchers working in the field of agri-food innovations from industry, academia and European institutions. The Academy is an advisory and capability building program that offers insights into the challenges related to food system innovations and regulations.
The application deadline: 20th March 2020
Program: 17th-19th June 2020 in Warsaw, Poland
More information are available on the website: » https://apply.eitfood.eu/courses/course/52-certificate-eit-food-government-executive-academy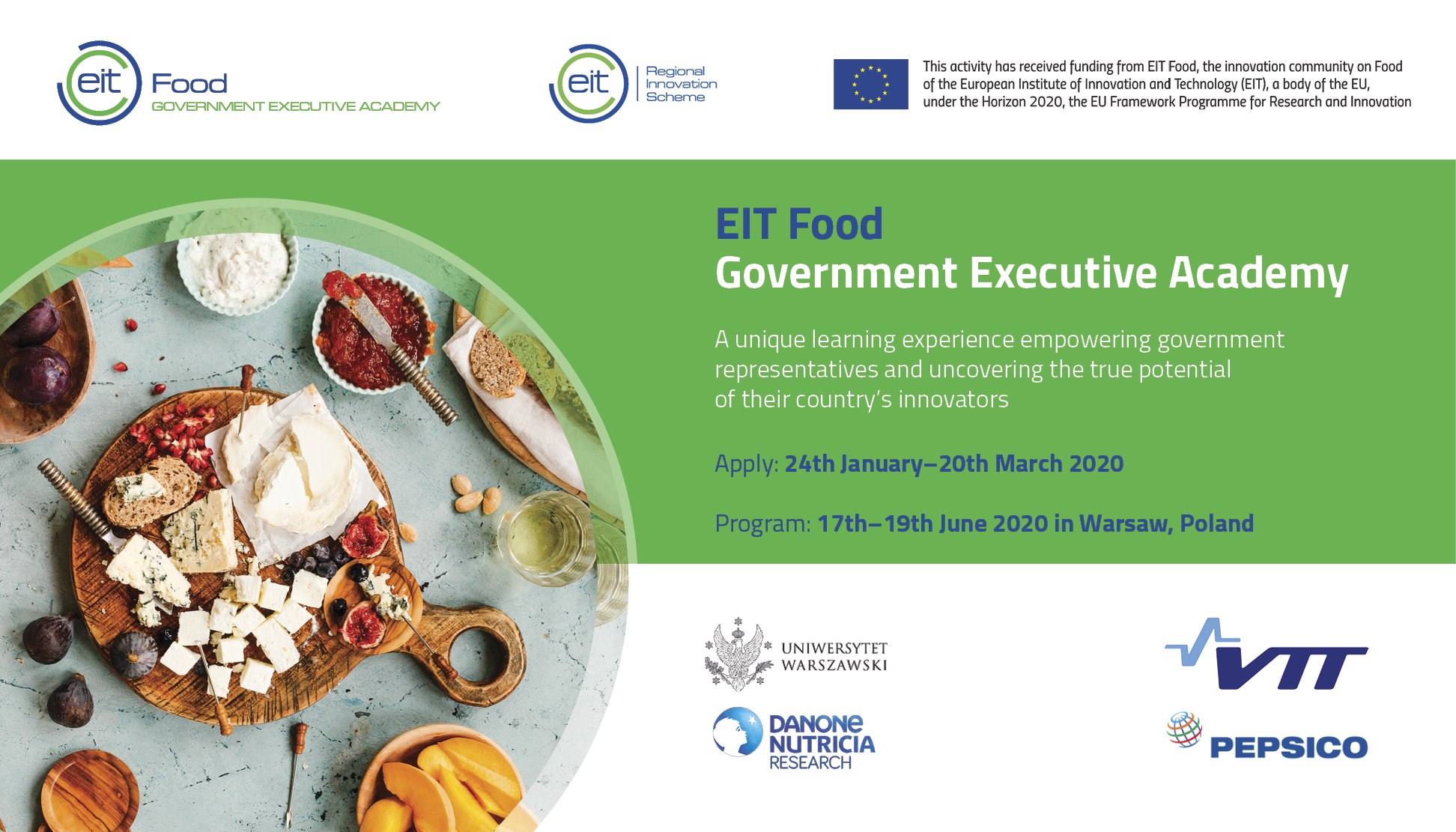 ---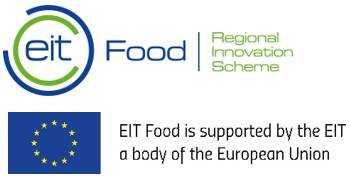 EIT Food - RIS Innovation Prizes 2020
Are you an early stage agrifood startup from Southern or Eastern Europe? Do you have an innovative product or service that could transform the agrifood sector? Apply for the Innovation Prizes competition and receive up to €25,000 of equity-free funding.
Pitch at the regional final in your home country, receive training and feedback from industry experts and win up €5,000. First prize winners from all participating countries will get a chance to promote their startup on the European level and compete for €10,000, €15,000 and €25,000.
More information and application form (deadline – April 19) -» https://bit.ly/385V9oN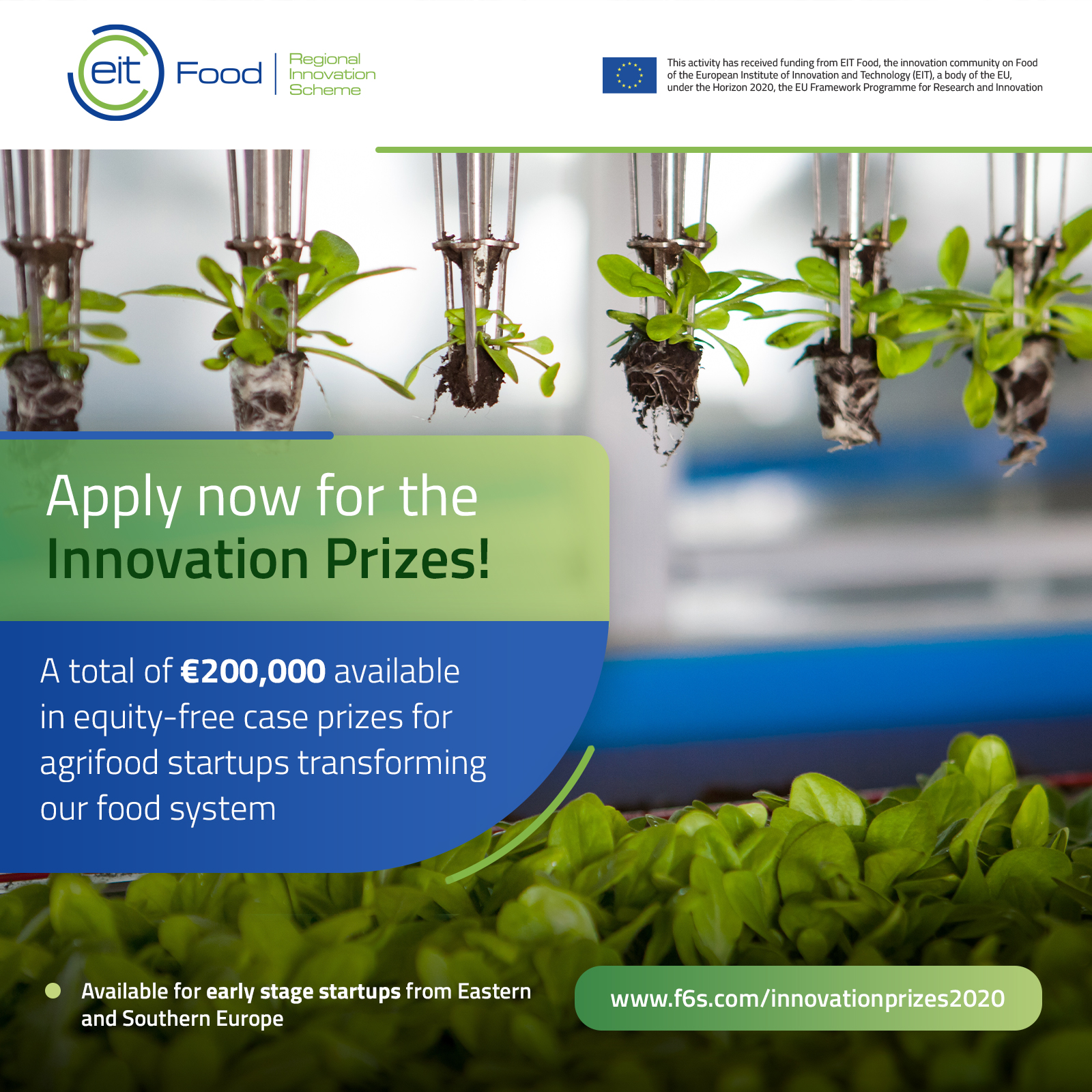 ---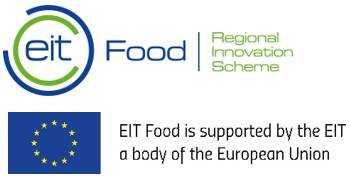 EIT Food - Legal and Accounting Support
Are you an agrifood startup struggling to cover legal or accounting expenses? EIT Food helps brilliant early stage companies from Eastern and Southern Europe boost their growth.
Legal and Accounting Support offers up to €2,500 to startups and entrepreneurs to cover the costs of company incorporation, IP protection, accounting and other. Get more info and apply now – » https://bit.ly/2vXyywJ.
For more information, click here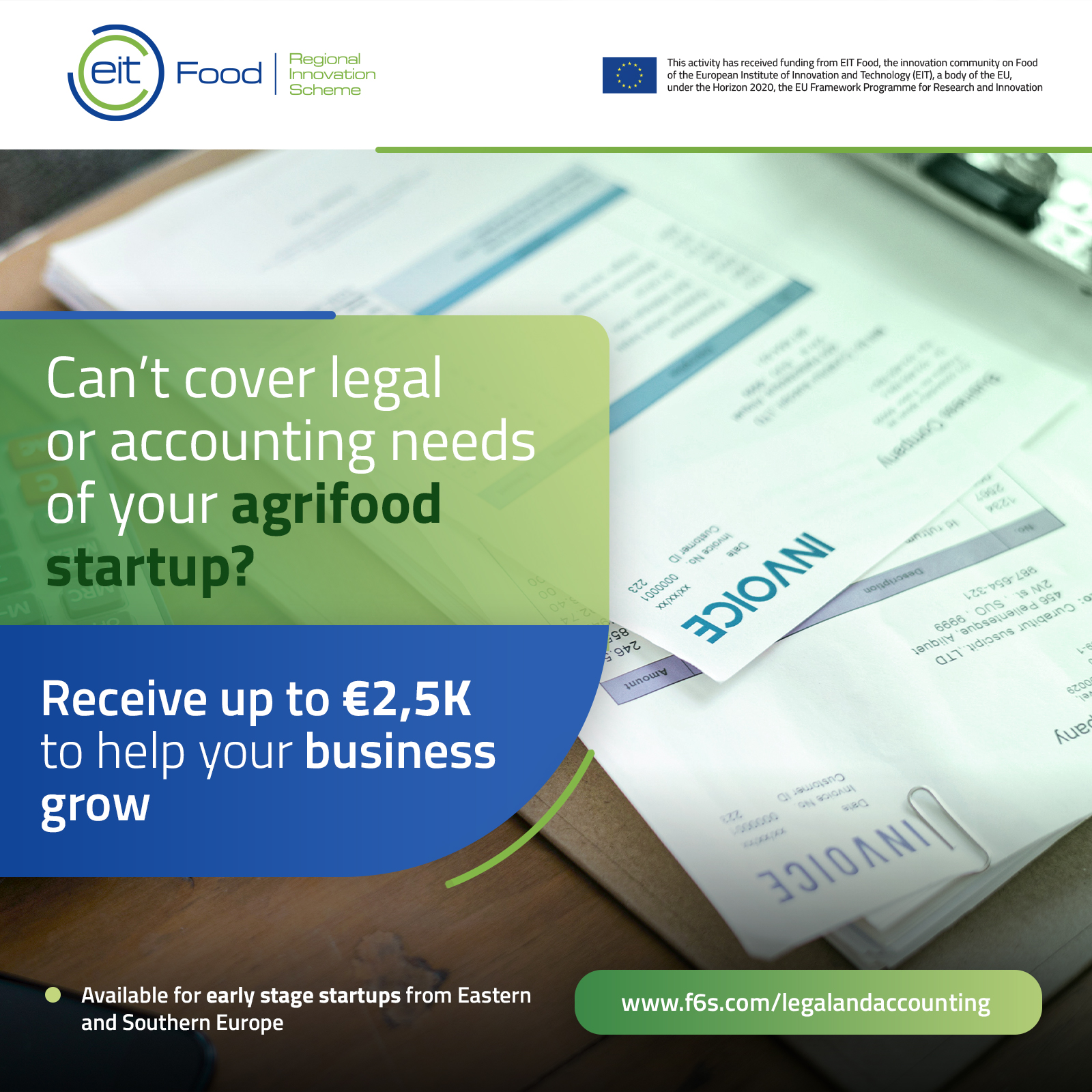 ---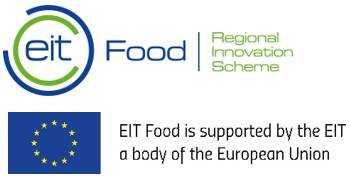 EIT Food - Seedbed 2020
Launch of EIT Food Seeded 2020
Seedbed: The pre-accelerator programme to drive the agri-food entrepreneurs of tomorrow.
The EIT Food Seedbed Pre-Accelerator Programme is open for applications until 15th March.
EIT Food Seedbed is a Pre-accelerator programme which trains and supports teams over a six-month period to help them better understand the needs of their customers and validate their business ideas. Seedbed is designed for early stage products or services that utilise innovative agri-food technologies set to make a big impact on any part of the food sector, including the way we produce, deliver, consume, recycle and value our food.
Held in Northern Ireland, Poland, Spain, Denmark and Germany, this game changing customer discovery programme allows aspiring entrepreneurs, intrapreneurs and start-ups to test the market directly with 100+ potential customers and learn how to progress from commercial proposition to validated business. During the program, teams will receive:
Training at a five day residential bootcamp based on a unique customer-orientated methodology to help you create a start-up business model

Mentorship from leading agrifood experts with specialised knowledge and skills to develop food sector innovation

Funding of up to €10,000 to validate your business idea with potential customers, plus the opportunity to access a further €20,000 through a Startup Launch Grant.

An invitation to final pitch event where teams will receive valuable feedback from agri-food experts
The program is suitable for those with a disruptive early stage business idea that has the potential to transform the agri-food tech space and is aligned with the strategic objectives of EIT Food. Applicants should be a resident, citizen or legal entity based in a Member State of the European Union or associated countries.
Please check out the Seedbed website for more information and eligibility criteria: https://www.eitfood.eu/Entrepreneurship/projects/Seedbed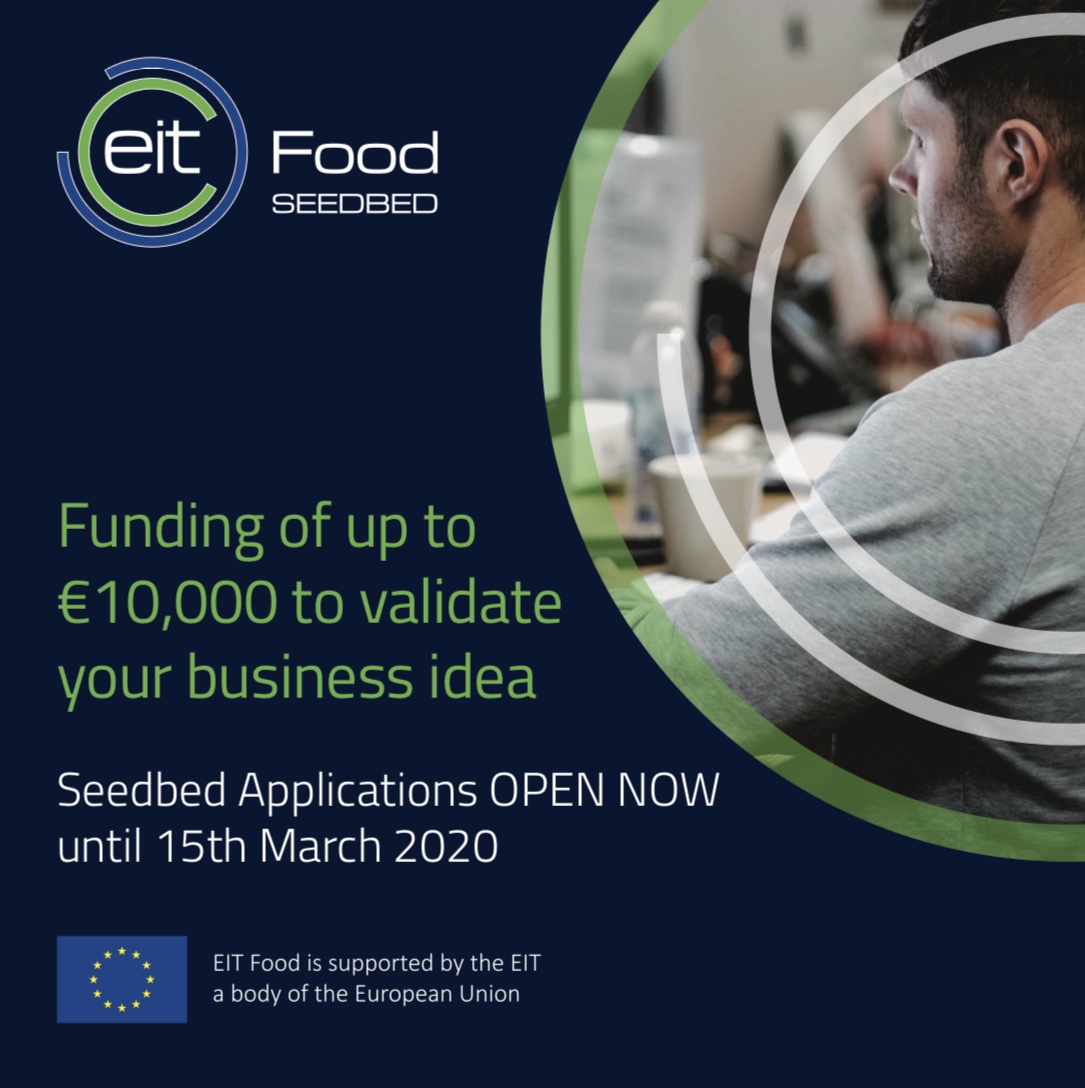 ---
Listeria Prevention System in Hungary
A voluntary audited Listeria Prevention System was developed by Campden BRI Hungary and some members of the Hungarian Deep Freezing and Canning Association after the Listeria outbreak traced back to frozen sweetcorn produced in Hungary in 2018.
» For more information, click here
---
EIT Food Network partnership
We are happy to announce that the EIT Food Community accepted the application of Campden BRI Hungary for Network Partner.
As a Network Partner, Campden BRI Hungary will participate in EIT Food activities and EIT Food Matchmaking/ lnnovation Market Activities.
For more information, click here

---
NoAW movie!
Watch our movie to see what #NoAW2020 developed so far for the sustainable future and #circulareconomy!
---
NoAW deliverable summary
Would you like to get more information about the work carried out in Work package 4?
Read about biotechnological strategies developed in NoAW to convert biomolecules from fruit and vegetable waste!
https://noaw2020.eu/deliverable-summary-alert/
---
Hackathon, modernization of the food industry with the solutions of digitalization and industry 4.0
29/11/2019 – 01/12/2019
Campden BRI Hungary and the Eötvös Loránd University - EIT Digital organized the first Food Industrial Modernization Hackathon with the support of EIT Food.
The main goal of the event was to develop innovative ideas and solutions for solving practical, existing problems and challenges of the food industry today, using the tools of digitization and industry 4.0 technologies, IT, mechatronics and automatization. The participants have worked on the topics in teams of 3-6, in mixed groups of students with different expertise: food engineers/bioengineers, informatician/mechatronics engineers and the business sector. Expert mentors from the food industry, IT and the business sector helped the teams during the event and awarded the best ideas and solutions.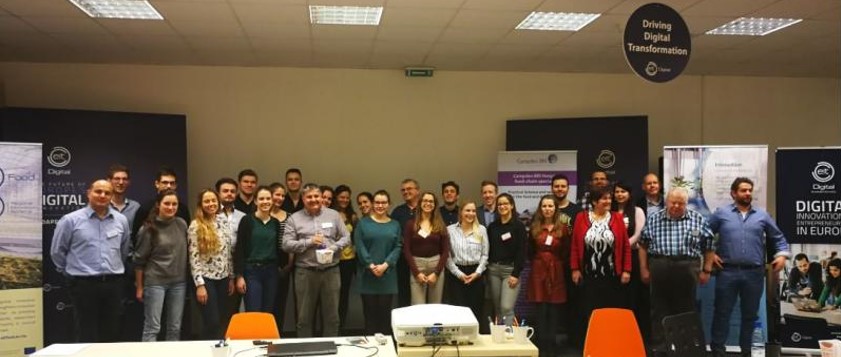 ---
Annual Meeting of Campden BRI Hungary
26/11/2019
The Annual Meeting of Campden BRI Hungary was held on the 26th November 2019. The aim of the event was to discuss and explore opportunities with our partners. We had two sessions, the first one focused on the opportunties of modernization and Industry 4.0, the second session provided a platform for students who plan to work in the food industry. Being the Hungarian hub of EIT Food, Campden BRI Hungary organized a round table discussion with industry representatives to share their experiences and advices for these students. Thank you all who came along and special thanks to our panellists for their contribution.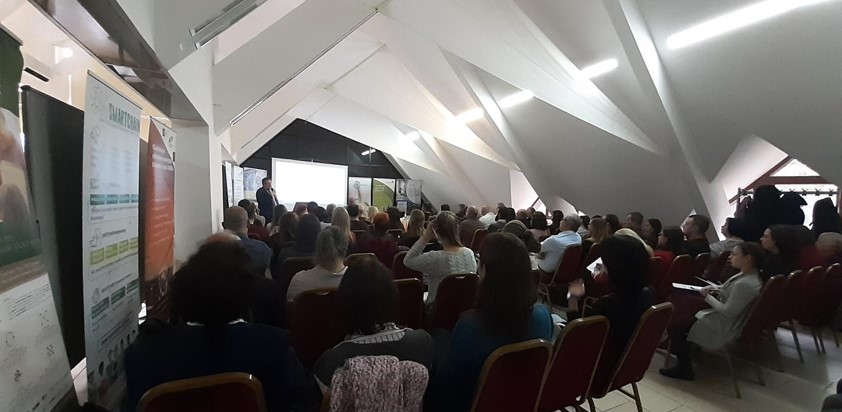 ---
S3FOOD enables a future with smarter food production
New EU project will help food SMEs to get started on their digital journey - 3,9 millon euro to go directly to SMEs
Thirteen European partners have come together in the S3FOOD project with an aim to improve the efficiency and sustainability of the EU food industry by enabling small and medium-sized enterprises to adopt digital technology.
Through S3FOOD, the partners will have a specific focus on facilitating and accelerating the use of smart sensor systems for improved quality control, better resource efficiency and a higher level of food safety and traceability – all important steps towards solving central challenges in the agri-food system.
---