Company information
Campden BRI Group
Campden BRI Magyarország Nonprofit Kft. Hungary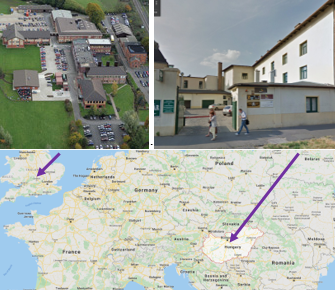 Campden BRI Hungary is an independent non-profit R+D+I institute serving the needs of the food industry, related industries, and agriculture. It is the successor of the Hungarian Refrigeration Development and Quality Testing Institute, therefore it gained more decades of R+D experience in Hungary.
Through its parent company in England (www.campdenbri.co.uk) , it has direct access to the latest developments and methods in the food industry in the UK and the EU, traditionally working closely with industrial companies on development projects.
It has considerable experience in the areas of technology transfer, product development, and the regulation of placing goods on the market. Its activities cover the whole food supply chain / all areas of the food industry.
Main activities: technology and quality development, sensory and consumer testing, sensory evaluations, customer surveys, design and implementation of food safety systems, preservation of food by cooling, heat treatment and freezing, product development, development of Good Hygiene Practice (GHP) and GMP guides, microbiology, development and application of food safety risk assessment methods for microbiological risks in the industry, screening and pre-audit of quality assurance and food safety systems, development of quality standards, preparation of sectoral strategic analyzes, marketing strategies.
Our staff includes both middle-aged professionals with decades of business experience as well as younger researchers with advanced research skills.
Campden BRI Hungary is one of the most important service providers for food companies in Eastern and Central Europe. Its aim is to provide prompt, unique, practical and competitive knowledge in the following areas: efficiency improvement and cost reduction, optimizing food technologies, advanced IT and manufacturing solutions, technology and product development, sensory and consumer research, food safety, food law, supply chain management and assistance, training, research and development, and consultancy/advice.
Campden BRI, UK
Campden BRI is the UK's largest independent membership-based organisation carrying out research and development for the food and drinks industry worldwide.
Campden BRI, UK has more than 300 employees and several institutions in the UK.
The aim is to provide prompt, unique, practical and competitive knowledge in the following areas: agriculture, product and technology development, process control, packaging technology, food hygiene, hygienic planning, cleaning and disinfection, consumer preference and sensory surveys and testing, milling, baking and grain processing, beverage production (BRI), European and international food and environmental legislation, information sciences, training, microbiology, chemistry, biotechnology, product and process innovation, food safety and quality assurance, etc. For more information, visit the website: www.campdenbri.co.uk